I'm excited to officially announce that members now have access to a Contena Coach.
We have been testing this with a few groups of members internally and many of these members have already seen impressive results.
Your Contena Coach can help you to create an effective pitch, refine your writing samples, improve your portfolio and show you what's working when applying for new gigs.
Your account management page will now display your assigned Contena coach.
Having a coach is important for two reasons:
First, you can see what's working, without all of the guesswork and trial and error. We have helped fill thousands of jobs so your coach knows what works (and what doesn't work) when applying for new gigs.
Secondly, having a coach ensures that you continue to move your business forward because your coach will help to create accountability and provide motivation.
After showing you what works, your coach will periodically check in to make sure that you have completed any materials necessary to land great clients using Contena.
There are thousands of articles like this one out there that outline the many additional benefits of having a coach for your business, but to sum it up:
Having a coach helps you to identify your strengths and weaknesses, see what's working, and get stuff done. When you combine these three things you can see some pretty amazing results.
We have added a button that makes it easy to contact your coach before help or advice before applying for any gig by clicking the "Contact Coach" button after viewing the job's details.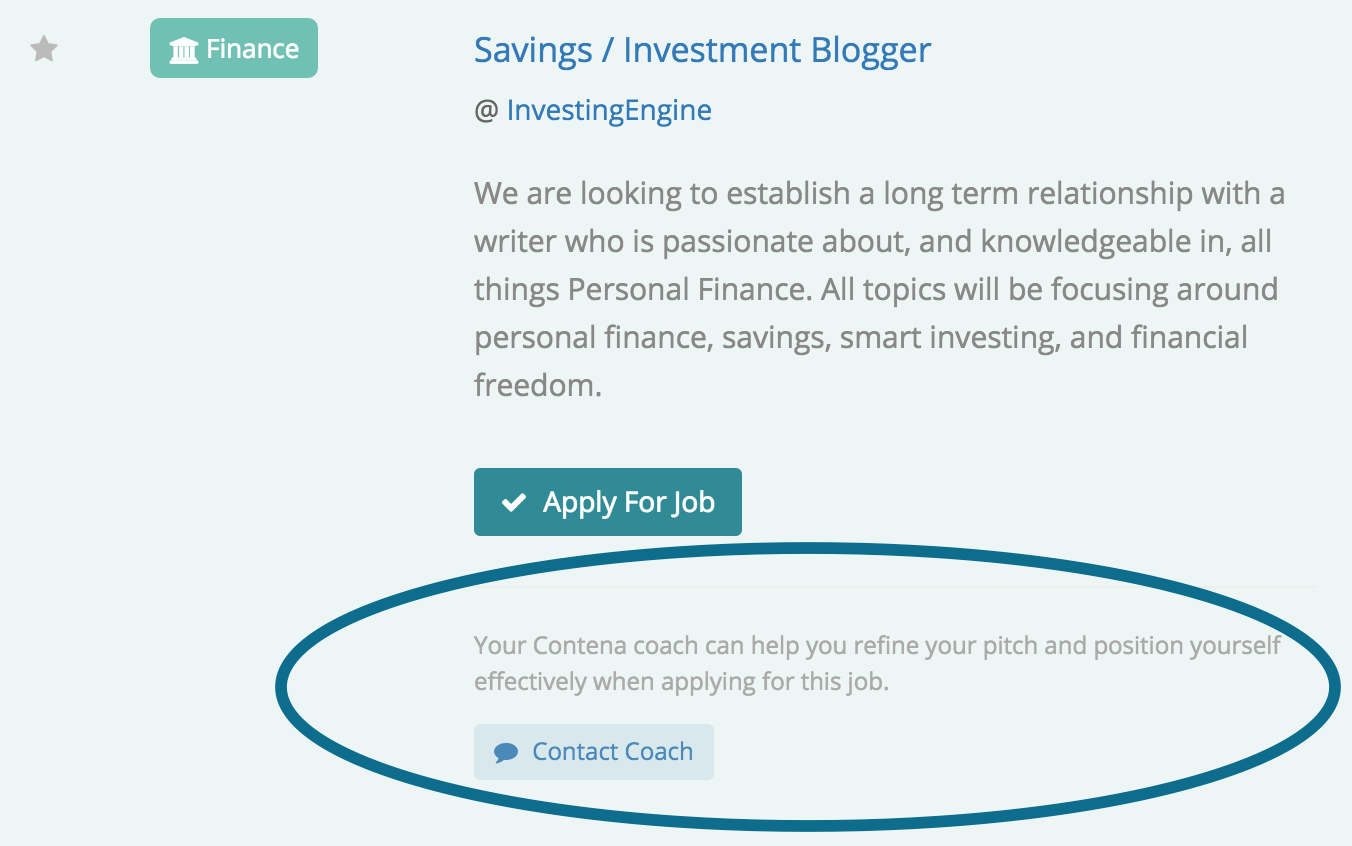 This is great because your coach will be able to see the job that you are interested in and help you to fine-tune any application materials. Many times, one or two small optimizations or improvements to your pitch or writing samples is all it takes to land the great clients.
We will be continuing to add more great things to our coaching program. If you have a Contena Silver or Gold membership, you should receive an introduction an email from your Contena coach so be sure to keep an eye out!